The Jackson County Vector Control District is committed to protecting the health and welfare of the communities in which we serve. Our programs and services are supported by property taxes and are provided free of charge to all residents in Jackson County.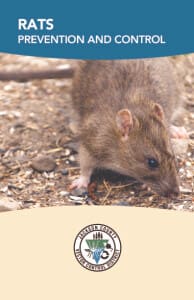 Free for Jackson County residents
Limit 2 snap traps
TRAPPING AND CHEMICAL CONTROL ALONE WILL NOT RID YOUR PROPERTY OF RATS. ENVIRONMENTAL MANAGEMENT AND BUILDING MAINTENANCE (RAT-PROOFING) MUST ALSO BE PRACTICED.
The District offers snap traps to the residents of Jackson county. Rat bait stations are no longer offered.
Rat infestations in Jackson County are usually associated with Norway Rats or Roof Rats. A variety of diseases are transmittable via rats and their fleas including: Bubonic Plague, Rat Bite Fever, Leptospirosis, Seoul Virus, and Salmonellosis.