Surveillance is an essential part of an integrated mosquito management program.  JCVCD uses surveillance to monitor mosquito sources, mosquito abundance, and mosquito-borne disease presence throughout our District.
Adult Mosquito Surveillance
Mosquito abundance and species composition are most often determined by monitoring traps at fixed locations year after year in addition to strategically placed "floater" traps.  Each week from April-October, JCVCD monitors approximately 50 mosquito traps at fixed locations along set routes and dozens of floater traps set in areas where we suspect mosquito activity may be occurring.  JCVCD primarily uses four types of mosquito traps:

Encephalitis Virus Surveillance (EVS) Traps
– These traps use CO2 gas emitted by dry ice to capture host-seeking female mosquitoes.  These traps attract a wide variety of mosquitoes, including many of our nuisance species like
Aedes sierrensis
and
Aedes vexans
and our primary disease vectors like
Culex pipiens
and
Culex tarsalis
.

Biogents Sentinel Traps
– BG Sentinel traps can use a variety of C02 sources in addition to a synthetic human scent lure to attract mosquitoes.  These traps catch a wide variety of mosquitoes, depending on the specific lure combination used.

Gravid Traps
– These traps are generally used in urban and suburban settings.  They utilize water, usually with the addition of some type of organic material (hay, grass, leaves, yeast, etc.), to attract female mosquitoes looking for a place to lay their eggs.  Egg-laying (gravid) mosquitoes will have had a blood meal and are more likely to be infected with diseases.  This trap works best to catch our primary disease vector,
Culex pipiens
.

Biogents Gravid Aedes Trap (BG-GAT)
– These are specifically designed to target non-native mosquito species, namely
Aedes aegypti
and
Aedes albopictus
, which prefer to lay eggs in water-filled containers around people's homes.  Currently, neither species has been detected here.  This trap uses water as the attractant and mosquitoes are captured on sticky paper placed inside the top of the trap.
Larval Surveillance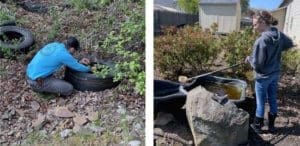 Our trained field technicians inspect hundreds of known and potential mosquito sources every year for the presence of larvae.  This is done by using standard dipping techniques to look for various stages of immature mosquitoes.  If larvae or pupae are found, the technician determines and records the stage of development (instar) and the average number of larvae per dip.  A larval sample will often be collected and reared in our lab to determine the exact species.  Knowing the relative abundance, stage of development and species of larvae present helps us decide what control measures if any, need to be taken.
Disease Surveillance

JCVCD monitors for mosquito-borne diseases like West Nile virus and Western equine encephalitis by sending adult mosquitoes collected in our traps to the Oregon State University Veterinarian Diagnostic Laboratory for testing.  Although we collect a variety of mosquito species, our disease surveillance program focuses on mosquitoes from the Culex genus, which are our primary disease vectors.