An effective mosquito control program focuses on managing sources of standing water that may breed mosquitoes.  This is accomplished through physical, biological, and chemical control techniques.
Physical Control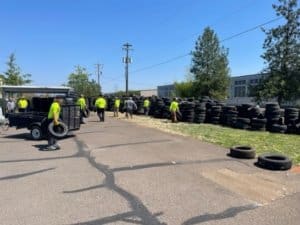 Also referred to as source reduction, physical control refers to the direct manipulation of habitats where mosquitoes live to reduce or eliminate breeding.  This would include things like ditch cleaning, filling/leveling low areas, clearing debris piles, or grading to improve drainage.  Although JCVCD lacks the budget to maintain our own heavy equipment for these purposes, our staff works closely with landowners experiencing problems with mosquitoes to advise them on ways they can alter their property to limit breeding sources.  Physical control can also include small-scale improvements like identifying and dumping water-filled containers and unclogging gutters.  JCVCD also stages an annual free tire drive to help Jackson County residents remove old tires from their properties since discarded tires can be significant mosquito sources.
Biological Control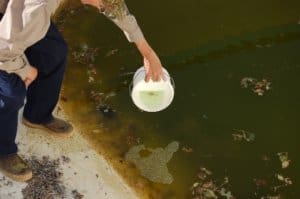 Biological mosquito control refers to the intentional use of organisms that prey on larval or adult mosquitoes to reduce their populations.  JCVCD promotes biological control by first and foremost encouraging natural mosquito predators in habitats where they are already present.  JCVCD only uses control products that are selective for mosquitoes to prevent the reduction of naturally occurring aquatic predators that help control mosquito numbers.  JCVCD augments natural biological control by using a species of fish called mosquitofish (Gambusia affinis).  Similar in size and appearance to guppies, mosquitofish are known to actively prey on mosquito larvae and pupae.  Because they are non-native, the Oregon Department of Fish and Wildlife (ODFW) stipulates that mosquitofish can only be placed in self-contained bodies of water such as ornamental ponds, fountains, and water troughs.
Larval Control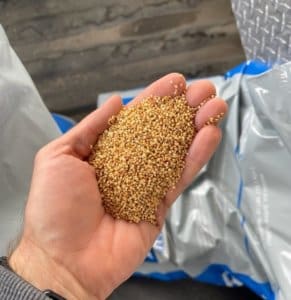 The district's primary focus is on controlling mosquitos in the larval stage before they become flying adults.  We control mosquito larvae by using products referred to as larvicides.  Larvicides are typically either a granular or liquid and most utilize Bacillus thuringiensis israelensis (BTI) as the active ingredient.  BTI is a strain of naturally occurring soil bacterium that is highly specific in targeting mosquito larvae and very environmentally sound.  Spinosad, also a soil bacterium, and Methoprene, an insect growth regulator, are other common active ingredients used in larvicides. These products are considerably more expensive than conventional pesticides but are essential to our control program.  Larvicides are safe for use in water sources as small as a few ounces or as large as several acres.  Mosquito sources treated with larvicides are re-inspected regularly by district employees to ensure an adequate level of control is being obtained.
Adult Mosquito Control
Another component of a comprehensive IMM program is adult mosquito control.  This is the practice of treating for adult mosquitoes by applying products using truck or ATV-mounted Ultra Low Volume (ULV) units.  JCVCD makes decisions regarding adult mosquito treatments based on surveillance, disease testing, and public requests for service.  JCVCD uses modern adult mosquito treatment products that require very low application rates, typically between 1and 3 ounces per acre.  In addition to low application rates, the small size of droplets, time of application (pre-dawn between 3am-6am), and knowledge of important and/or vulnerable habitats help mitigate impacts to non-target species.