Mosquitoes are blood-sucking vectors that carry and transmit several dangerous diseases such as West Nile Virus (WNV), St Louis encephalitis (SLE), Western Equine encephalitis (WEE), and Eastern Equine encephalitis (EEE).  WNV can cause a fatal neurological disease in humans, while encephalitis is an inflammation of the brain that can cause issues ranging from headaches to death.  The best way to control the risks of getting bitten by mosquitoes and contracting one of these diseases is to reduce the mosquito population in an area.  One non-chemical solution is to use mosquitofish to control mosquitoes in standing water on your property.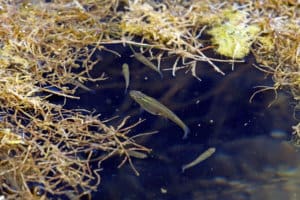 Mosquitofish (or "Gambusia affinis") is a type of fish related to a guppy and native to the southern and eastern regions of the United States.  Most are about ¼ inches long but can grow to a maximum size of 3 inches.  Once placed in a water body, the mosquitofish immediately go to work eating mosquito larvae.  One mosquitofish will eat as many as 100 larvae per day.  In the right conditions, a mosquitofish will live 2 to 3 years.
Where can mosquitofish be placed?
Mosquitofish can be an invasive species if left to spread unchecked.  For this reason, mosquitofish can only be placed in artificially created water areas.
Appropriate Places for Mosquitofish

Never Put Mosquitofish in These Places

Ornamental ponds (with Koi is ok if the fish are small)

Unused pools with stagnant water

Animal water troughs

Large fountains

Lakes

Rivers

Streams

Creeks

Other natural waterways or bodies of water
What else is important about a mosquitofish's habitat?
The equipment and water in a new pond may hurt the fish. 

The fish may die if the pond's equipment includes copper pipes or fittings in contact with water.  In this case, coat the pipes with a special paint, or if in construction, use plastic piping instead.  Also, check the pH balance of the water.  Mosquitofish live best in water with pH between 6.5 and 8.0.  Water stored in whiskey barrels or wine barrels may have harmful chemicals in it.  These containers must be soaked and flushed out several times before use.

Watch out for predators.

 Raccoons, possums, cats, heron, egrets, and Koi fish larger than the mosquitofish may all consider these swimmers a nice snack.  Use rocks in the pond to help the fish hide out while inactive.

Get rid of duckweed. 

Duckweed is a tiny floating plant that spreads as a cover over a pond, especially if the pond has rotting organic debris in it.  Fish will have a hard time surviving in this condition.  Clean out the duckweed first, and regularly maintain the surface of the pond.

Algae is good, but too much is bad.

 Green algae are little plants growing on the bottom of the pond that produces oxygen suitable for the habitat.  However, if there is too much, the fish can't get to the larvae and won't effectively control the mosquito population.

Unicellular algae needs to be observed. 

This is the kind of algae that turns water green.  It's not harmful, but it can signify that there are other things in the water, like debris, that should be cleaned out.

Scoop out tree leaves.

 Pine, oak, eucalyptus, and other trees contain harmful chemicals to fish.  Too many leaves (or needles) in a pond will make the fish sick.
If you're interested in free mosquitofish to control mosquitoes on your property, contact JCVCD today!
The Jackson County Vector Control District (JCVCD) is your resource for education and solutions to reduce the risk to you, your family, and your neighbors related to disease-transmitting pests.  Vectors are living organisms that can transmit diseases between humans or from other animals to humans.  Oregon's most common vectors include mosquitoes, flies, rats, and ticks.  
For example, JCVCD distributes free mosquito fish to Jackson County residents with ponds or other forms of stagnant water such as unused swimming pools.  Mosquito fish feed on mosquito larvae, reducing the population of mosquitoes in your area.  Contact JCVCD for more information about getting free mosquito fish or obtaining other educational materials.