Background
West Nile Virus (WNV) is a mosquito-borne virus that has been found in parts of Asia, eastern Europe, Africa, and the Middle East. The virus was first detected in the United States in 1999 in New York City.
The majority of people and animals that are infected with the virus have a mild illness or no symptoms. In rare cases, the virus can cause a more serious condition called encephalitis, an inflammation of the brain. The elderly are at higher risk for disease caused by WNV.
In 2004 a dead crow in Vale, Oregon, tested positive for WNV. This was the state's first sign of WNV. West Nile virus has been detected in Jackson County during the 2005- 2008, and  2012-2015 mosquito seasons. The Center for Disease Control and Prevention reports that there have been 177 human cases of West Nile virus in Oregon since 2004. The last known human case of West Nile virus in Jackson County was in 2005.
How do people and animals get West Nile virus?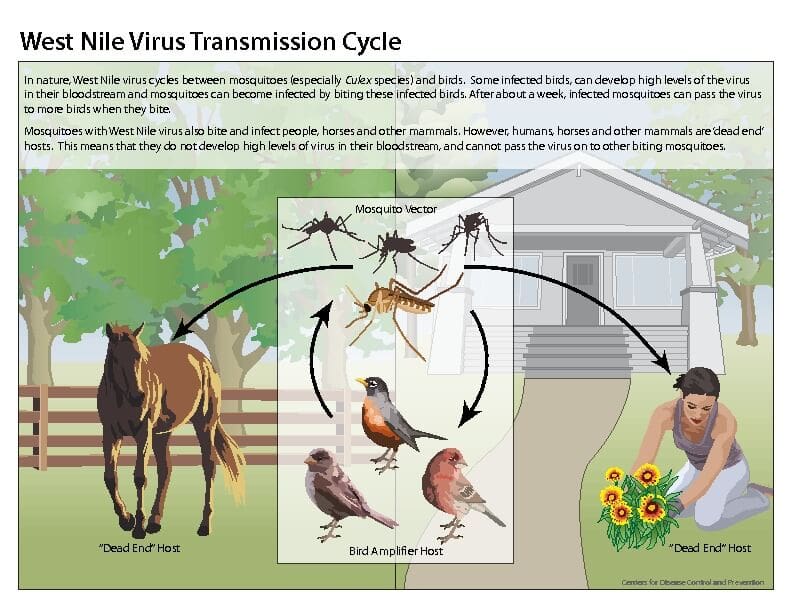 WNV is transmitted to people and animals by infected mosquitoes. Only certain species of mosquitoes carry the virus and very few mosquitoes are actually infected. A mosquito first acquires the infection by feeding on a bird with virus in its blood. The virus lives in the mosquito and is transmitted to a new host in the mosquito's saliva when the insect bites a person or animal.
Humans and horses are accidental hosts for the WNV. Human-to-human transmission does not occur. The virus is most prevalent from May to October when mosquitoes are most abundant.
What are the symptoms of West Nile virus in people?
Most people who are infected with WNV have no symptoms whatsoever. However, of those who become ill, symptoms can include fever, headache, nausea, body aches, mild skin rash, or swollen lymph nodes. In a few cases, the disease will progress to encephalitis (inflammation of the brain). The time between the mosquito bite and the onset of illness, known as the incubation period, ranges from 5-15 days in humans. It is estimated that 1 in 150 people who are infected with WNV will require hospitalization. The elderly are particularly susceptible to clinical illness caused by WNV. There is no specific treatment for infection with WNV, although supportive care is important.
West Nile virus prevention and control
To decrease exposure to mosquitoes and the infections they may carry:
Avoid outside activity at dawn and dusk during the mosquito season (May to October). This is particularly important for the elderly and small children.
Wear protective clothing (long pants and long sleeves) and apply insect repellant when outside.
Apply insect repellent sparingly to exposed skin. The more DEET a repellent contains the longer time it can protect you from mosquito bites. A higher percentage of DEET in a repellent does not mean your protection is better —just that it will last longer. Repellents may irritate the eyes and mouth, so avoid applying repellents onto the hands of children. Be sure to read and follow the manufacturer's DIRECTIONS FOR USE, as printed on the product.
Place mosquito netting over infant carriers when you are outdoors with infants.
Make sure that doors and windows have tight fitting screens. Repair or replace screens that have tears or holes in them.
West Nile Virus vaccine is available for horses. Talk to your veterinarian.
Eliminate potential mosquito breeding areas
Mosquitoes must have standing water for their development. Get rid of water where mosquitoes can lay their eggs:
Remove old tires, buckets, cans, drums, bottles or other containers that can hold water.
Fill or drain any low spots in your yard.
Cover trash containers.
Inspect rain gutters and downspouts and remove leaves and other debris.
Empty stagnant water in bird baths, plant pots, rose cuttings, drip trays, small wading pools, pet dishes and other containers once a week.
Repair leaky faucets.
Properly maintain your pool. Cover pools not in use to prevent accumulation of leaves and debris. Be sure pool covers do not hold pockets of water.
Stock mosquito fish in water troughs and ornamental ponds.
Eliminate tree stumps capable of holding water and fill cavities in trees.
Clean flat roofs and air conditioner drains frequently.
Store small boats upside down or cover to keep out rain and water from sprinklers.