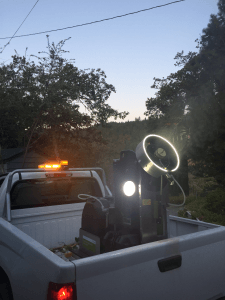 While the truck mounted ULV(ultra-low volume) system is most familiar to the public, it is our last line of defense. Our adulticide program uses a finely calibrated ULV fogging machine which produces a very fine aerosol which kills adult mosquitoes upon contact. Only adult mosquitoes in the area at the time of treatment will be killed, there is no residual effect.
For information about what pesticides we use, please visit the products we use page.
We utilize a GPS enabled logging system, which enables us to keep more detailed records about what, how much, and where we treat for adult mosquitoes.