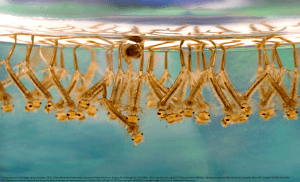 The principle objective of the Jackson County Vector Control District is to provide a means to prevent mosquito borne disease transmission.
The majority of our program consists of finding and controlling mosquito larvae before they hatch.
What is Integrated Pest Management?
Inspection/Monitoring
Identification
Establishment of threshold levels
Implementation of control measures
Measurement and evaluation
The EPA and CDC encourage maximum adherence to integrated pest management (IPM): "The underlying philosophy of mosquito control is based on the fact that the greatest control impact on mosquito populations will occur when they are concentrated, immobile and accessible. This emphasis focuses on habitat management and controlling the immature stages before the mosquitoes emerge as adults. This policy reduces the need for widespread pesticide application in urban areas."
The basic services the district offers to the residents of Jackson County include surveying an area of complaint to determine the source of the nuisance, and assisting property owners in eliminating breeding sources by providing consultation and recommending control measures.