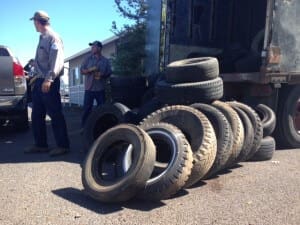 FREE TIRE DISPOSAL EVENT!
Tires filled with water can produce hundreds of mosquitoes per week.  Not only are the mosquitoes produced in waste tires a nuisance, but they can also carry diseases such as West Nile virus.  Help us protect public health by disposing of your unused tires at this free event.
When:     Thursday August 15th – Saturday August 18th 2019 from 8 am to 4 pm
Where:    Jackson County Vector Control District
555 Mosquito Lane
Central Point, OR  97502
541-826-2199
This event is for AUTOMOBILE TIRES ONLY.  Tires on the rim or over 34 inches tall will NOT be accepted.  Fifteen (15) tire limit per residence.  Thirty (30) tire limit per vehicle.    Please do not bring in tires cut in half or in pieces.  Bring your ID or utility statement with your home address on it for verification of Jackson County residency.